Peter Parssey MAIES - Memorial Prize
---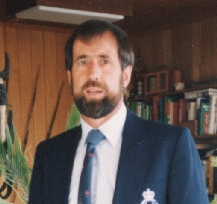 Peter John Parssey 15/12/1939 – 27/02/1989, By Betty Parssey
Peter worked at the Government Printing Office as a Compositor and later as a Liaison Officer in Marketing. Before we met Peter worked in Papua New Guinea on secondment from the Tasmanian Government Printer for almost two years.
Pete was very involved with motor sport, in particular, the 500 Car Club. He was a Marshall at Rallies and track days at Baskerville and Longford, as well as a competitor at VW Car Club Rallies and Gymkhanas. He owned a Volkswagen 1600 TS Fastback when we met in 1966 – I had a Morris Mini Cooper S; we met through rival car clubs. The Mini and VW Clubs could be likened to being either a Holden or Ford fanatic in those days!
Other interest and hobbies included Gemstone fossicking and Lapidary, growing orchids and a love of our local native timbers Huon Pine, Sassafras, Blackwood, Celery Top Pine all of which he loved for wood turning and handcrafts. Fishing with his two sons Scott and Tyronn was a favourite past-time. His main sporting interest was golf he was very proud of his Hole-in-One which he achieved on the Rosny Public Golf Course.
He was elected as a Councillor to the Clarence Council in 1975 - 78 and represented Clarence Council at a National Parks & Recreation Conference in Melbourne. In 1983 Pete was elected to Clarence Council again as an Alderman and was nominated to the Clarence Counter Disaster Committee. 1981 Peter was appointed as a Justice of the Peace with his investiture commissioned in November of that year.
Peter was a member for many years of the Clarence Unit of the SES and eventually took on the role as co-ordinator. He gave a lot of time as a volunteer, providing supervision for youths on court work orders, teaching skills and values to assist with their re-integration to society.
1982 January 14, was a proud moment when he became a member of the AIES.
1988 Peter was nominated by the SES for an Australia Day Citizenship Award for Clarence unsuccessful, but never the less, was very proud of his nomination.
1980 Pete had his first heart attack and eventually diagnosed with Cardiomyopathy; he was eventually listed for a heart transplant (procedure was very much in its infancy) but sadly his time never came for this and the condition finally claimed his life on 27th Feb 1989 – it was Monday evening (SES night) about 11pm, as usual he had been to his precious SES unit, came home and went to bed – not long after there was a huge sigh and his life just expired. A disturbing shock for his Unit.
1990 April 5th the National Medal was awarded Posthumous in recognition of service to the SES.
His philosophy was to be a doer very practical and no nonsense, he expected all to be approached and treated as one as individuals, just as he did himself; a strong belief of all being equal and devoid of class and vocational distinction. Very much promoted the ordinary guy.
By Ron Jones FAIES, President Tasmania Division
Peter became a member of the Tasmanian Division of the Australasian Institute of Emergency Services in 1982. The following year Peter became an active board member. Peter's drive and enthusiasm for the Institute was infectious to all who knew him. He was a straight shooter in particular looking after the member's interest, which the Tasmanian board greatly benefitted from.
Peter remained an active board member until his untimely passing.
The current board at the time established the P J PARSSEY Memorial Award in his honour and was to be awarded each year to an emergency service worker(s) who has excelled above and beyond their normal duties to help their service(s) and their community; the quiet achievers, working behind the scenes for the benefit of others.
The award was first presented in 1990 to Frank Brown of the Clarence State Emergency Service. He received the perpetual trophy made from huon pine; a piece Peter was working on at the time of his passing, along with a personnel trophy made from Tasmanian native wood.
The winner is announced at a dinner in late February by Peter's wife, Betty. This tradition still continues today.
Going through the many winners of this award it is a constant reminder of what a fantastic job our emergency service workers do, both voluntary and permanent staff.